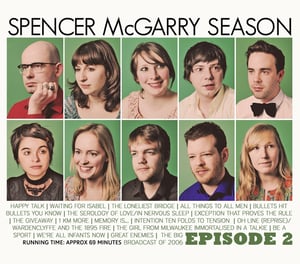 £

10.00
No longer on sale through BMR. Please visit Spillers Records online or in person, or http://spencermcgarryseason.bandcamp.com/.
The second of six albums from Spencer McGarry Season. Augmented with guests from The Hot Puppies, Barefoot Dance Of The Sea and Cardiff New Music Collective amongst others, this 69-minute epic brims with strings, brass, woodwind, percussion and additional vocals.
Produced by Charlie Francis (High Llamas, REM), it takes its cues from a broad range of influences, with the 20th century musical theatre of Rogers and Hammerstein, Gershwin and Irving Berlin noticeable alongside the baroque pop of Brian Wilson, Sufjan Stevens and The Beatles and even modern classicists Steve Reich and Philip Glass.
With huge faux-operatic moments, jazz passages, knowing avant campness and out-and-out noise, culminating in a 20-minute medley, the results make for a challenging yet warm and accessible record and a massive step forward.
Happy Talk
Waiting For Isabel
The Loneliest Bridge
All Things To All Men
Bullets Hit Bullets You Know
The Serology Of Love/In Nervous Sleep
Exception That Proves The Rule
The Giveaway
1 Km More
Memory Is...
Intention Ten Folds To Tension
Oh Line (reprise)/Wardenclyffe And The 1895 Fire
The Girl From Milwaukee Immortalised In A Talkie
Be A Sport
We're All Infants Now
Great Enemies
The Big Broadcast Of 2006